Elizabeth Raffald - The Experienced English Housekeeper of Manchester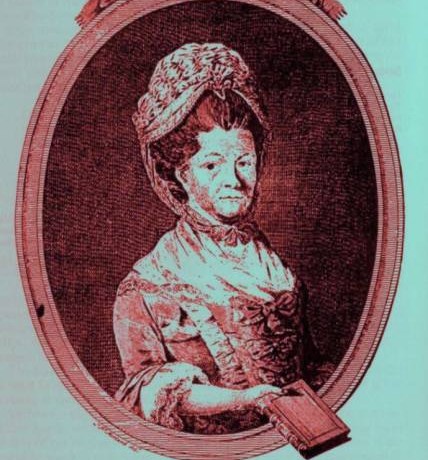 Elizabeth lived from 1733 to 1781, her last 18 years spent in Manchester. During her time here she made a big impact on Mancunian society and was very influential in her area of expertise. From the age of 15 she worked in domestic service, rising to the rank of housekeeper at Arley Hall in Cheshire. Once married she set up her first confectionery shop, a kind of deli, in Manchester's Fennel St and soon became renowned for her catering knowledge ad skills. But she didn't rest there. Her enterprising nature found an outlet in many different ways.
For a copy of her story get The Experienced English Housekeeper of Manchester by Suze Appleton, available on Amazon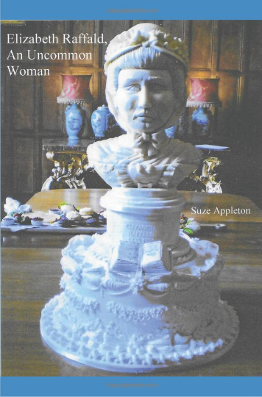 NOW OUT!
ELIZABETH RAFFALD, AN UNCOMMON WOMAN
THE FICTIONALISED DIARY OF ELIZABETH'S LIFE IN 18TH CENTURY MANCHESTER
Elizabeth Raffald, An Uncommon Woman, is out now on Amazon, price just £9.99.
It is packed full of research on Manchester town as it was then, before the church became a cathedral and mills were everywhere, including stories of some of the residents and information on discoveries of the time. Through it all runs Elizabeth's story, her marriage, businesses and childbirth. She achieved a great deal in her short married life and it is brought to life in this book.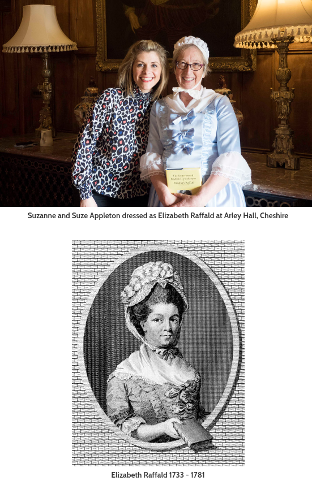 Elizabeth Raffald featured on Channel 4's Extreme Cake Makers
In April 2019 I had an exciting opportunity to take part in a celebration at Arley Hall for the 250th anniversary of Elizabeth Raffald's recipe for Bride Cake, which appeared in her 1769 cookbooki, The Experiemced English Housekeeper. Elizabeth was the originator of rich fruit cake covered by almond icing and royal icing for weddings, a tradition which continued for centuries afterwards. Prior to this wedding cakes were pastry based, a type of Bunbury cake, and often the cake was broken over the Bride's head. Anyone who has been a Bride owes a debt of gratitude to Elizabeth for this improvement.
The celebration in April was a combined arrangement between Lord and Lady Ashbrook of Arley Hall who graciously hosted it, Sarah Flannery of Knutsford Promenades who compiled a guest list of interested individuals and organisations, and Suzanne Thorp of The Frostery in Uppermill, Oldham, a wedding cake specialist, who created a most amazing cake. The link to The Frostery's blog is here
I played my part by dressing in a replica of Elizabeth's dress and cap as seen in her portrait to represent Elizabeth herself. If was a fantastic day enjoyed by everyone who attended and tasted the delicious cake.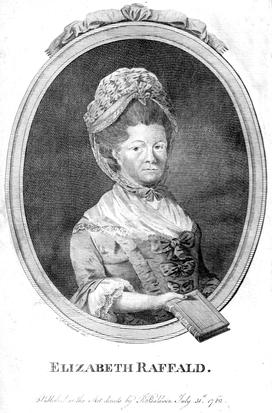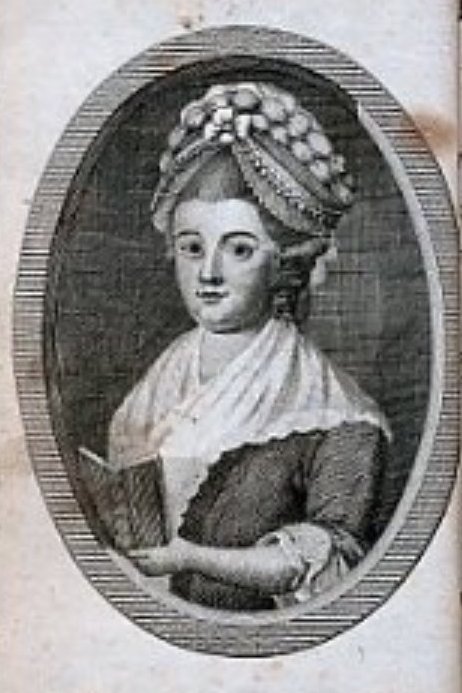 ELIZABETH RAFFALD AS SEEN ON BBC'S THE SWEET MAKERS!
Elizabeth Raffald was mentioned on the BBC's programme about Georgian confectioner's. Set in Bath I did not think that anyone Northern would be included, then two thirds of the way in they reconstructed one of her best recipes. Unfortunately they used a second rate picture of her, using the one reprinted in the pirate versions of her cookbook, The Experienced English Housekeeper. The picture on the left is the real Elizabeth Raffald but the BBC used the one on the right . Not the same woman at all but I'm just so pleased that a Manchester cook was represented in the fashionable town of Bath, centre of Georgian high society. Elizabeth Raffald, one of Manchester's great women.
A NEW BLUE PLAQUE FOR STOCKPORT!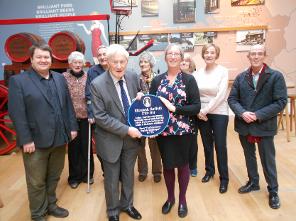 L-R in the photo : Dean Fitzpatrick, councillor for education; Anne Kelly, for The Heatons WI, whose members gave generously to the fundraising; David Jackson, 6th generation direct descendant of Elizabeth Raffald whose family donated in memory of their mother, Connie Jackson; Dennis Robinson, Olga Shipperbottom who donated to the fund in memory of her husband Roy, a previous biographer of Elizabeth; Me; Sheila Booth for The Heatons WI; Margaret Hope, David's sister; and her husband, Brian Hope.
AS FEATURED BY PURE RADIO, 107.8FM, STOCKPORT EXPRESS AND THE MANCHESTER EVENING NEWS.
Permission was given for a blue plaque to commemorate the life of this extraordinary woman, Elizabeth Raffald, at the Arden Arms in Stockport centre. It is the only building still standing that can claim any connection with her. The pub was built by her nephew, George Raffald in 1815 and she is buried nearby in the Raffald family vault at St Mary's.
The plaque was delivered to Frederic Robinson Ltd care of Dennis Robinson, see picture above. On March 3rd the plaque was officially launched with a short celebration at the pub. The date is special for Elizabeth's story as it is the anniversary of her wedding day in 1763 and I plan to hold a commemoration at the pub every year.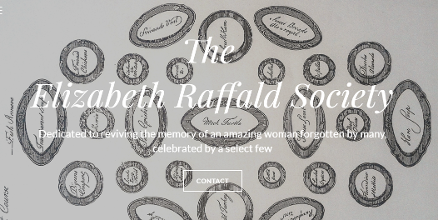 THE ELIZABETH RAFFALD SOCIETY WEBSITE HAS NOW BEEN LAUNCHED AT
A place for all Elizabeth Raffald fans to share news and ideas about this amazing woman. It is shocking that she has been forgotten for so long and I hope to be able to revive her fame at least in the area where she carried out so many of her achievements.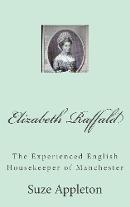 BOOKS ABOUT ELIZABETH RAFFALD NOW ON SALE IN STOCKPORT
My short booklet of Elizabeth Raffald's incredible life story and her achievements are now on sale in two locations in Stockport Town Centre. Both the tourist Information office and the Heritage Centre in St Mary's church on Stockport's historic Marketplace now have them for sale, at the usual price, £5 each.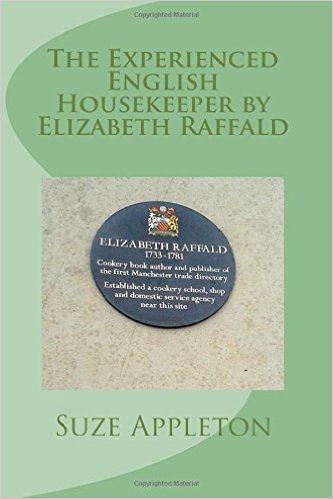 THE EXPERIENCED ENGLISH HOUSEKEEPER BY ELIZABETH RAFFALD NOW AVAILABLE IN MODERN TYPE AND AS A HYPERLINKED EBOOK!
I have retyped the 18th century script into modern type and reproduced the original cookbook in modern paperback and ebook format. It is available on Amazon here or direct from me, price £12 plus p+p
HOW I discovered ELIZABETH RAFFALD
The name of Elizabeth Raffald first came to my attention in 2014 when someone tweeted a photo of her plaque which is on the back of the Marks and Spencer building in Manchester's Exchange Square. 'Who is this woman?' it asked, and I had to confess I had no idea, despite having lived in Manchester most of my life.
Google took me inevitably to Wikipedia which yielded enough information to whet my curiosity and I went searching further. A few more sites held information about this 18th century domestic goddess/celebrity chef, some of them surprising. One of the first was the Museum of Fine Arts in Houston, Texas, of all places. They had recreated a dinner table setting as prescribed by Elizabeth, under the direction of a British food historian, Ivan Day, and they knew a lot about Elizabeth. She's big in America, it seems. Most of the digital versions of her book seem to have been donated to university libraries in the US.
Yes, she wrote a book, a magnificent cookbook, massive for its time, printed by a local Manchester newspaper man, Joseph Harrop. She had sold 800 copies of the first edition by prior subscription before selling the copyright for £1400 (£150,000 in modern money). It went on to 13 reprints! I wish I could have that success. And it wasn't cheap, 5 shillings then, the equivalent of about £25 now. When she died there were 23 pirate editions issued including one for America. It was a must have book apparently. No respectable young lady would set up home without a copy of Mrs Raffald's book to guide her. Elizabeth also ran a second confectionery shop, cookery school and the first servants' employment agency, pubs, carriage hire, catered for dinner parties, race courses, officers' mess and a coffee house, co-owned 2 newspapers, wrote a book on midwifery... oh, and she found the time to compile the first ever trade directory of Manchester and Salford in 1772, with 2 later editions including the changes in the fast growing town. All in 18 years in Manchester
Another surprising source of information was the website of the Arden Arms, in Stockport. They claimed she had a link with them, which intrigued me. I know the pub quite well, have sampled its excellent food several times although I always thought it was odd that it could survive where it was, below the market, facing onto a busy roundabout and the entrances to 2 busy car parks, not exactly a quiet spot. However I know now it claims its heritage back to the time of Elizabeth, built by her husband's family on land they had owned and worked for over 200 years. She would have visited the previous pub building on that site.
And because of that connection Elizabeth was buried, not in Doncaster where she was born, or Manchester where she lived, but in Stockport at the parish church just up the hill from the pub, where her husband's family had a family vault. The gravestone is still there but in a part of the graveyard overgrown and unsuitable to access, however I was reliably informed that Elizabeth's name was not added to the stone. She was buried swiftly at 7am one morning in April 1781 shortly before her husband signed over all their possessions, and debts, and left for London.
Of course I had to delve deeper and now have notebooks full of information about her. There is so much more to Elizabeth's story, she was a real character and her list of achievements is incredible, on top of which she was frequently pregnant after being married at the age of 30, extremely late for that era. The last recorded birth I have found was in 1774, when Elizabeth was 41, late even by today's standards but the baby does not seem to have survived. There is some difference of opinion as to how many babies she had, some say 16, some say 9, but I have only found 8 baptisms recorded at Manchester Cathedral, including one simply known as 'male' Raffald.
I find it hard to believe I have not come across Elizabeth in any local studies or history lessons, not seen any pictures of her before now, and to think this remarkable woman does not even have a marked grave seems to me a terrible omission. One plaque high up on the wall of a building doesn't seem enough. I had walked past the spot many times without noticing it before now. I want to give her a voice and will be recreating her life in my forthcoming novel of how I imagine she lived. This is taking a lot of research but I hope to have it ready soon. In the meantime I have produced a booklet of her life and it is available on Amazon here.
In the meantime I will be giving talks about Elizabeth's life and achievements to local interest groups and I will be interested to see how many people know her name. So far it is not many.