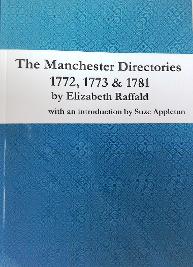 The Manchester Directories 1772, 1773 & 1781 by Elizabeth Raffald with an introduction by Suze Appleton
A unique picture of Manchester in the early days of the cotton industry's fast progress.
By 1781 Elizabeth Raffald had worked hard in Manchester for 18 years and was coming to the end of her strength. Her final effort was to republish her innovative directory for a final third time.
Available in eBook, paperback and hardcover here.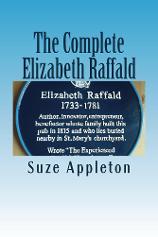 The Complete Elizabeth Raffald
In this volume I have gathered together most of the research sources that I found, plus copies of her books, The Experienced English Housekeeper, and both 1772 & 1773 directories, so that future scholars searching for information on this great woman will have a ready source of information.
Available in paperback, hardcover and Kindle format here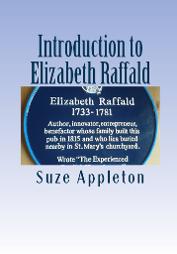 Introduction to Elizabeth Raffald
I couldn't believe one woman could have done all the things that were written about her so I was determined to sort out the truth about her. The further in I got, the more annoyed I became that she had been forgotten. In this volume I have gathered together most of the research sources that I found.
Available in both paperback and Kindle format here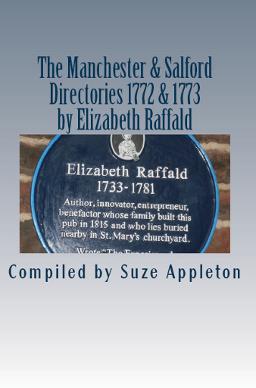 The Manchester & Salford Directories 1772 & 1773
by Elizabeth Raffald
In 1772 Manchester was a fast growing town thanks to the rise in industrialisation. Inventions to improve the textile practices, that were the mainstay of its residents, were springing up all around the area, bringing more and more traders and merchants into the town. Elizabeth Raffald was a busy entrepreneur involving herself in numerous business ventures.
Available in both paperback and kindle format here

Expats of the Caribbean
A silly story of fun among the palm trees, centring on a group of expats. Based on true experiences and people, names changes to protect the innocent!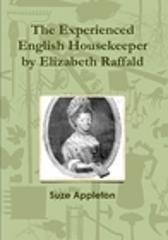 The Experienced English Housekeeper by Elizabeth Raffald
A retyped copy of her original cookbook, also available as an ebook on Amazon here

The Defiants
A young adult cience fiction story set on the fictional planets of Thermidor and Zendor One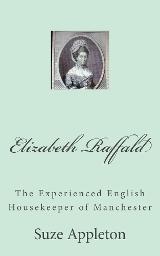 Elizabeth Raffald - The Experienced English Housekeeper of Manchester
Elizabeth lived at the dawn of the Industrial Age. Her name is unfamiliar to most Mancunians and yet she was a powerhouse of hard work and entrepreneurialism, something for which Manchester has always been renowned. She was a skilled confectionery cook, writer and businesswoman who lived in Manchester from 1763 , when she married at the age of 30, until she died in 1781. In that short time she produced a definitive cookbook and the first trade directory for Manchester, financed newspapers, wrote a book on midwifery and yet still found time to have a family. More about her here
Find 'Elizabeth Raffald- The Experienced English Housekeeper of Manchester' on Amazon here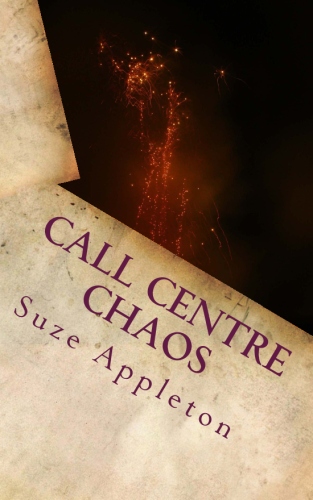 Call Centre Chaos
Vikings in a call centre? Explosions? How on earth did Matt's job become so explosive? He thought he had enough problems just coping with his mindless job in a call centre. All he wants to do is make enough money to clear his debts and get into writing game software but Fate, it seems, has other plans for him.
He thinks his luck has changed when a good looking girl is seated opposite him, and he gets selected for promotion. Until, that is, he gets the troublesome Krystal on his team. Agressive and rule breaking, she isn't going to be much help to him in his job or his hopes to date MIna, especially when, as a computer geek, his chatting up skills are non-existent. Add in an odd assignment and a local thug and the situation becomes explosive.
Find 'Call Centre Chaos' on Amazon here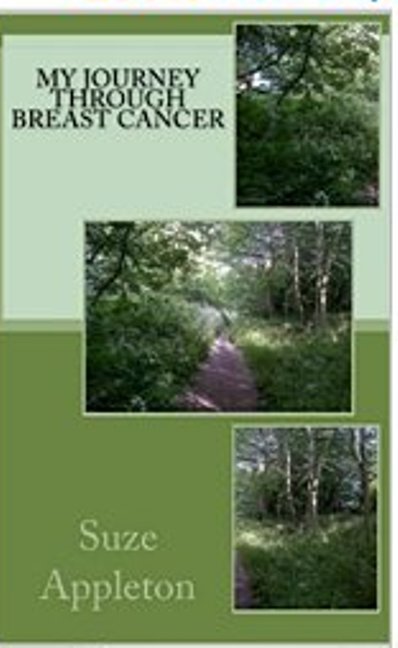 My Journey Through Breast Cancer is the story of my experiences, emotions and reactions as I went through treatment.
I wrote this book to help women exactly like me who were newly diagnosed with breast cancer and wondered what to expect as they went through treatment. I couldn't find anything like this when I was diagnosed in 2000. I knew nobody who had had breast cancer, only relatives who had all, without exception, died from some form of cancer. I hope this book helps to dispel some of the fears.
This book is the result of my first attempt at writing a book, and I wrote it while undergoing my treatment, from diagnosis to hormone therapy and it includes excerpts from my diary at the end of the book. My initial fears luckily were not fulfilled and I have gone on to write more books since, although on a lighter note!
Find 'My Journey Through Breast Cancer' on Amazon here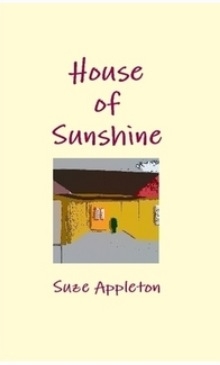 House of Sunshine
Sharon's dream trip across the USA in a Winnebago has foundered before it's begun. After spending a few weeks in the Caribbean being sick, she's already stir crazy at being confined to a trailer park. She's fed up, hormonal and cold. A surprise change of venue makes her much happier although it's a bumpy ride at first. With another chauffeur called Mark, a clutch of yellow robed monks and a couple of homeless kids, new characters open up her life and give it new meaning.
Find 'House of Sunshine' on Amazon here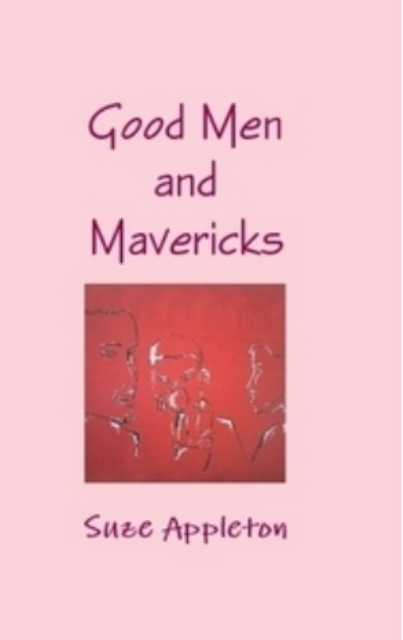 Good Men & Mavericks
After being sued by Swami Sharon takes any work she can to stay on in her friend's house on the Isle of Man. She works for the new tenant who is running it as a guest house but the woman is very high handed with her. After one last insult Sharon storms out and heads back to Ronnie's. On her travels she picks up a marriage proposal, a cheque and a dilemma. Can she make a good choice this time?
Find 'Good Men & Mavericks' on Amazon here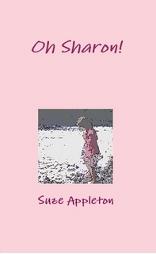 Oh Sharon!
Ever get that feeling that life is out to trip you up? Sharon Carter knows that feeling only too well. All she is trying to do is make a living and pay her bills. She steps out of her comfort zone to attend a talk that her best friend Ronnie has recommended. it has the most unforeseen outcome and she embarks on a roller coaster journey from Stockport, UK to Sri Lanka with the mysterious Swami, a hypnotic and charismatic man in a purple robe.
Find 'Oh Sharon!' on Amazon here
And for an idea of what the stories are like, here is where it all started...
Oh Sharon!
Chapter 1
As she walked up the stone steps of Stockport Town Hall, Sharon felt a sense of dread. What was she doing here? This was madness. All kinds of panicky thoughts went through her mind. Why was a mature, sensible woman like her coming here to listen to a quack speaker like this? What was she doing coming to a talk entitled 'the Search for Something'. Search for my money, she thought crossly, making a mental note to have words with Ronnie in the morning at work for convincing her to come.
Even his name didn't sound right. Swami ben Napoleon Pratharma Hutt did not sound like a genuine enlightened being, but you never knew, she thought, wisdom had come in stranger packages through her life. She thought about all those slogans she had seen on vans driving past her. They had all sounded profound at the time and left her questioning what she was doing.
There were crowds here tonight too. Swami's reputation had grown since he 'arrived' in the UK about six months ago. There were lots of rumours about him. Some reports said that he believed he was the reincarnation of Genghis Khan, having to spend this lifetime atoning for all the crimes of that lifetime. In his publicity material he simply said that his eyes had been opened by contact with a wider consciousness, and his life was dedicated to the message they asked him to bring to other humans. They regretted that it was necessary to charge to do this, but the cost was simply to cover the basic costs of the hall.
As Sharon entered the back of the hall and paid her £25 to the smiling young man in purple robes sitting at the payment desk she felt that they may have overestimated their basic costs a little. Many of the other two hundred or so people in the Town Hall ballroom seemed oblivious, dreamily clutching their illustrated books of The Word, which to Sharon looked remarkably like souvenir programmes. They swarmed to the front of the room, guided to empty seats by helpers wearing flowing purple robes. There did seem to be an awful lot of them, Sharon thought, as she took a seat near the back of the hall, but her friend Ronnie had told her to come tonight. He had been to a meeting in Ashton the previous week and was impressed. For two days he had floated round the office in a state of benevolence to everyone, until the photocopier broke for the tenth time. He was a little less benevolent towards that. It seemed the Swami's word didn't cover inanimate objects so that was alright. . .
If that has whetted your appetite please go to AmazonKindle store to download the ebook, or to Lulu.com to order the print copy. Happy reading!
Books to date
FICTION
2011 - Oh Sharon!
2012 - Good Men and Mavericks
2012 - House of Sunshine
2014 - Call Centre Chaos
2015 - The Defiants
2016 - Expats of the Caribbean
NON-FICTION
2013 - My Journey with Breast Cancer
2015 - The Experienced English Housekeeper of Manchester
2015 - The Experienced English Housekeeper, Elizabeth Raffald's original cookbook retyped
2017 - The Manchester & Salford Directories 1772 & 1773 by Elizabeth Raffald
2017 - Introduction to Elizabeth Raffald
2017 - The Complete Elizabeth Raffald
All books are available on Amazon as ebooks and in print. Also direct from me via email to info@suzeapple.co.uk
If you enjoy the stories please consider leaving a review on Amazon or contact me on info@suzeapple.co.uk or find me on Facebook as Suze Appleton, or Twitter as @suzeapple
Following my slight detour into the factual story of my experiences, I returned to my fiction roots and produced a couple of stories, Call Centre Chaos and Expats of the Caribbean, and tried my hand at a young adult fantasy novel set on an imaginary planet.
More books are in the pipeline. In the next one I tried something different, still fiction, but with more of a whodunnit edge. After that I hope they will be followed soon by a fictionalised biography of that fascinating, but overlooked, character from Manchester's formative years, Elizabeth Raffald.
The complete series:-
Oh Sharon!
Good Men and Mavericks
House of Sunshine
If you enjoy the stories please consider leaving a review on Amazon or contact me on info@suzeapple.co.uk or find me on facebook or Twitter @suzeapple